JT-150 is simple and low cost GPS tracker designed for normal vehicles with internal GPS & GSM antenna.
Small and Easily installation anywhere in the vehicle and it has internal backup battery to keep device working in case of main power supply cut off.
2 digital inputs 1 digital outputs gives all basic tracking function .
Key Features
Suitable for all normal vehicle
small easy to install
Real-time data from GPS vis GPRS
Packet data TCP/IP, UDP & SMS
internal GPS/GSM antenna
reliable GPS engine
Low power consummation
Over-speed alarm.
Main power on/off alarm
ACC detection
SOS panic bottom
Geo-fences (circular, polygon, rectangular)
Remotely control fuel (with relay).
Certifications FCC ,CE, Rosh


Accessories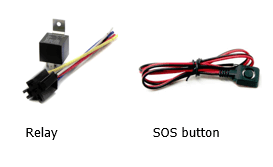 Temperature

Operating:--20 to +70 °C

Storage: -20 to +75 °C

Power supply range

9 ÷ 40 V DC

Internal battery

LiPo 3.7 V 200 mAh Battery short circuit protection

GSM

Antenna:internal

Frequency band : :850/900/1800/1900 MHz

(GPS, module




Modem: UBLOX 7020 Antenna: internal

Acquisition sensitivity: -144 dBm

Tracking sensitivity: -159 dBm Cold start time: 32s [average]
Warm start time: 30s [average]
Hot start time: 1s

Digital inputs (DIN)

2 digital inputs

Digital outputs (DOUT)

1 digital output







Certifications

E-mark, CE, FCc